1. FIRST, KNOW WHAT ACTUALLY CAUSES DARK CIRCLES. THEY CAN BE HEREDITARY, OR A RESULT OF BLOOD VESSELS LYING UNDER YOUR SKIN.
Don Bayley / Via Getty Images
Darker pigmentation around the eye area can be hereditary, or the result of blood vessels under the eye that are swollen or not draining properly. "The thin skin of the eyelid is translucent in many individuals and therefore it easily reveals the underlying vessels below," Dr. Dendy Engelman, a dermatologist, tells BuzzFeed Life. Dark circles can be made worse by lack of sleep, consuming an excess amount of sodium, and the presence of allergens around the eyes.
2. THEN UNDERSTAND WHAT CAUSES BAGS UNDER THE EYES.
Reddit User: CardinalWinter / Via i.imgur.com
Bags under the eyes are actually a herniation, or an abnormal protrusion, of the fat pads surrounding the eye. When these fat pads swell or move beyond where they're supposed to be positioned, they cause the skin to bulge, which gives the appearance of "bags." It's also important to note that you can have dark circles and bags under your eyes at the same time.
NOW LET'S GO OVER HOW TO DEAL WITH DARK CIRCLES AND UNDER-EYE BAGS.
3. START WEARING SUNSCREEN AROUND YOUR EYE AREA NOW.
SkinCeuticals / Via skinceuticals.com
"There is a great new nonmigrating sunscreen formulated specifically for the eye area called Physical Eye UV Defense. This should obviously be applied in the morning. Thicker eye creams are usually best used at night to help hydrate the skin and repair skin overnight," says Engelman.
4. Freeze tea bags or a wet spoon and let them sit over your eyes.
Stockbyte / Via Getty Images
"As antiquated as it sounds, there really is truth in using a frozen tea bag or spoon to help minimize the appearance of dark circles. The reason these techniques are helpful is because they induce vasoconstriction, which makes the vessels underlying the skin smaller and, therefore, the circles look lighter," Engelman tells BuzzFeed Life.
5. For severe bags under your eyes, head to your dermatologist.
Mkrberlin / Via Getty Images
"As a dermatologist, I can offer the ultimate fix, which is to place a little bit of filler under the eyes in order to make the appearance of under-eye bags disappear. I also have lasers that can help tighten the skin and build underlying collagen so that dark circles and under-eye bags are banished.
"For at-home techniques, it is a bit more difficult to cover the under-eye bag bulge. Using light-diffusing concealers in this area can help minimize their appearance," Engelman says.
6. Up your water intake, reduce your alcohol intake.
"Some individuals are extremely sensitive to alcohol and the histamine release [or inflamation] that it can cause," says Engelman. Alcohol can widen the blood vessels, which causes dark circles to look more prominent.
To cut down on the dehydration from alcohol, grab a reusable water bottle to keep it with you all day. Swell bottles, pictured above, keep liquids cold for 24 hours. And because of their exterior material, the bottle won't get wet on the outside (which can ruin all of the other things you're carrying in your purse).
7. Keep your eye gel in the fridge.
Augusta Falletta / Via BuzzFeed
"I keep eye gel in the refrigerator, so it cools the delicate eye area and makes the underlying blood vessels smaller," Engelman says.
8. Actively work on sleeping more and sleeping deeply.
Yoga For Insomnia / Via itunes.apple.com
A lack of sleep can really darken the skin under your eyes. Try using an app to help you sleep better, like Yoga For Insomnia, which guides you through specific Hatha yoga poses to combat insomnia, or Sleep Cycle Alarm Clock, which wakes you up in the morning during your lightest sleeping phase.
9. Get into the routine of using an eye mask.
Skin Care Girl / Via skincare-girl.com
"Typically I start with skincare or an eye mask. After I apply the masks, I hydrate with a lightweight eye cream," says celebrity makeup artist Vincent Oquendo. Try thisSephora Instant Depuffing Eye Mask for $6.
10. Go to bed wearing a soothing, cooling sleep mask.
Earth Theraputics / Via kohls.com
Keep the mask in the freezer during the day and slip it on right before bed. The cooling sensation will help to de-puff your eye area. Grab this mask for $6 here.
11. Or, try under-eye patch treatments to depuff your eye area.
Patchology makes these under eye patches that cool, soothe, and refresh your eyes in 20 minutes.
Next, learn the makeup tricks for making your eyes look brighter and less puffy.
12. Use a concealer color with orange undertones for the best dark circle coverage.
Orange-based concealers will counteract the blue undertone of dark circles. You can get this one for $6 here.
13. For extreme cases of dark circles, use Dermablend.
Miss Whoever You Are / Via misswhoeveryouare.com
"I use Dermablend Quick Fix Concealer Stick because it matches my skin perfectly and blends beautifully without looking cakey. Also, it doesn't get stuck in the under-eye creases," Engelman says. "The great thing about the Dermablend line is that there are 21 shades, so virtually every skin color can be matched."
You can get it here for $25.
14. Grab a nude or white eyeliner to brighten and open up your eye area, which will make you look more awake.
The Beauty Department / Via thebeautydepartment.com
To make the area even brighter, use a highlighter on your brow bone and on the inner corner of your eyes.
15. Reduce the look of bags under your eyes by applying concealer only to the shadow of the bag, not the bag itself.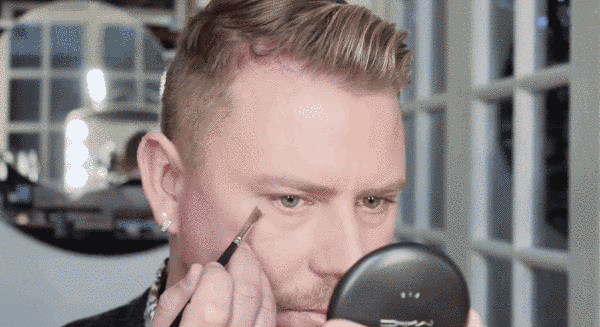 Use a small, angled concealer brush and a shade of cream-based concealer that matches your skin tone. Apply the concealer just in the shadow (or crease) of the bag under your eye, not to the bag itself. To see the entire trick, watch the tutorial here.
16. Try using red lipstick under your foundation to cover up dark circles.
Deepica Mutyala / Via birchbox.com
The pigment of the red lipstick will counteract the blue tone of dark circles. Once foundation is applied on top of the red lipstick, the darkened skin will be completely neutralized and covered. For the full tutorial on this trick, watch Deepica Mutyala's tutorial.
17. However you decide to apply concealer, use the pad of your ring finger, which is the weakest of the fingers.
Life In Curl / Via lifeincurl.blogspot.it
"I love using the pad of my ring finger — it's the weakest of all fingers — to tap on the product lightly. If you put too much it will look obvious, so it's all about that precise dab," says celebrity makeup artist Jamie Greenberg. Plus, using your weakest finger means you won't be unnecessarily tugging and pulling at the sensitive skin around your eyes, which can cause sagging and wrinkles.
18. Apply your concealer in a triangle from under your eye down your cheek, not in small dots along your eye line.
Augusta Falletta / Via BuzzFeed
You don't need to use a lot of concealer, you just need to apply it in a different shape. By applying in the shape of a triangle, you're creating a light arrow that draws attention to the bright part of your eyes.
19. And on days when you just have to deal:
TopoftheTops / Via etsy.com
Own them.
Source:BuzzFeed